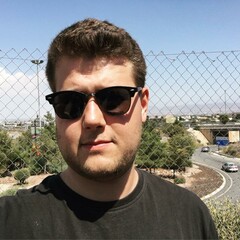 Oskar Trochimowicz
3D Artist @ Punch Punk Games
Benidorm, Spain
Summary
I'm Oskar Trochimowicz 3D Artist, I'm specialized in creating game-ready props, vehicles and environments.
Creative, self-taught 3D Prop and Vehicles Artist. Constant desire to learn and improve.
I have worked as freelancer for small developers over a year.
Also worked in small indie dev team creating props and vehicles for Yacht Mechanic Simulator.
Over 2 years of experience in Blender software. All texturing made in Substance Painter and Photoshop.
Unreal Engine 4 and Unity 5 3d artist needs knowledge. Also gaining experience in Hand Painting Textures and Sculpting.
Skills
3D Modeling
Environment Modeling
Prop Modeling
Texturing
UV Mapping
Game Design
Game Development
Painting
Sculpting
Retopology
Mobile
Software proficiency
Experience
3D Artist at Punch Punk Games

Warsaw

3D props and vehicles creation, optimizing objects, UV unwrapping, texturing.

September 2019 - November 2020